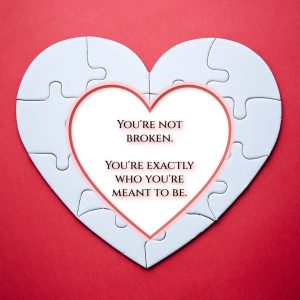 𝕎𝕣𝕚𝕥𝕖𝕣 𝔽𝕣𝕚𝕖𝕟𝕕𝕤 ℂ𝕙𝕒𝕝𝕝𝕖𝕟𝕘𝕖 𝔻𝕒𝕪 𝟙𝟟 (Sharing here a couple days late
) : If you could send a msg to your younger self, what would it say?
You're not broken.
Living with OCD isn't going to be easy, and you're going to have many tough days, but it's going to make you a stronger person.
A more compassionate person.
And someday you'll write a book about a kid like you, with the hope it'll help other kids feel seen.
You're not broken.
You're exactly who you're meant to be.
I co-host the #WriterFriendsChallenge on Instagram with my fabulous writer friend, @susanleighneedham – Our goal is to help writers connect, find friendship, and grow on Instagram. Below is the 𝑾𝒓𝒊𝒕𝒆𝒓 𝑭𝒓𝒊𝒆𝒏𝒅𝒔 𝑪𝒉𝒂𝒍𝒍𝒆𝒏𝒈𝒆 prompts for the month.
Follow #WriterFriendsChallenge to connect with other writers and comment on their posts. Tap the "follow" button to see the posts in your feed. The "recent" tab will allow you to browse the most recent posts.
Interpret the prompts any way you want and do as many or as few as you want. Most of all — 𝑯𝒂𝒗𝒆 𝑭𝒖𝒏!!